For most of my adult life, I have set New Year's Resolutions. I don't know about you, but I can't actually remember one resolution that I set previously (apart from there is always one about my weight), let alone one that I actually achieved.
I do remember the pressure I put on myself in January to achieve my resolutions and I also remember the feeling of failure by around February time. Yet every year, I would set New Year's resolutions again.
The challenge with New Year's Resolutions is that we usually set them in a vague, ambiguous way with language that keeps us from looking forward such as 'I need to lose weight, I want to be more organised, I want a better job' and so on. It is really hard to get any traction on the goals and too quickly we think we have failed.
I believe in creating my future and I have a very specific technique I use to set out the outcomes I want for my life, which is a story for another blog. Today, I wanted to share a way for you to use tiny habits to contribute to you achieving the outcomes you want, which is really useful if you want to start to implement changes today in a way that will get you towards your bigger goals.
Take a moment to think about what you could accomplish in a week, a month, or even a year if you created tiny habits today and kept building them up over time. When we try to make huge changes all at once, it usually leads to burn out or a feeling of failure. However, if you take small baby steps with tiny habits toward a bigger goal it becomes doable, sustainable and feels much better.
Whether our habits are good or bad, they have compounding effects, which means the more you do something, the greater the results. So, the more frequently you put on your walking/running shoes and go for a walk/run, you'll achieve improved health, you'll be in better shape, and the better your chances of feeling better. Likewise, the more frequently you eat unhealthy foods, the more health problems you'll encounter over time.
What is a Tiny Habit?
Tiny habits are simply those actions we take every single day without thinking about it. Brushing your teeth twice a day and washing your hands after using the bathroom are just instinctive, because it's what we were taught as kids and that action was reinforced by our parents and our teachers. These tiny habits are also quick and easy, sometimes less than two minutes, so we don't even notice them taking up any time out of our day.
In the walking example above, certainly you need much more time than two minutes to improve your health benefits; but adding an extra two minutes to your current walking workout is hardly noticeable. Adding another two minutes the next week you probably still won't notice. Keep increasing your time by two minutes and soon enough you'll be walking or running longer distances. Adding these small increments of time is sustainable and harmless.
How to Choose Your New Habits
Every single area of your life can be improved with the help of tiny habits; just do a bit of soul-searching to decide where you want to focus or what specifically needs improving. Having a goal in mind will lead you in the right direction and these tiny habits will build the processes necessary to reach those goals.
So, for the New Year, I am not setting myself New Year's resolutions, I am setting myself some tiny habits to introduce into my daily routines that will help me achieve my bigger goals. I will review them at the end of January, decide what I want to continue tracking and what new tiny habits I would like to add. Here are my tiny habits for January related to my health and well-being goal: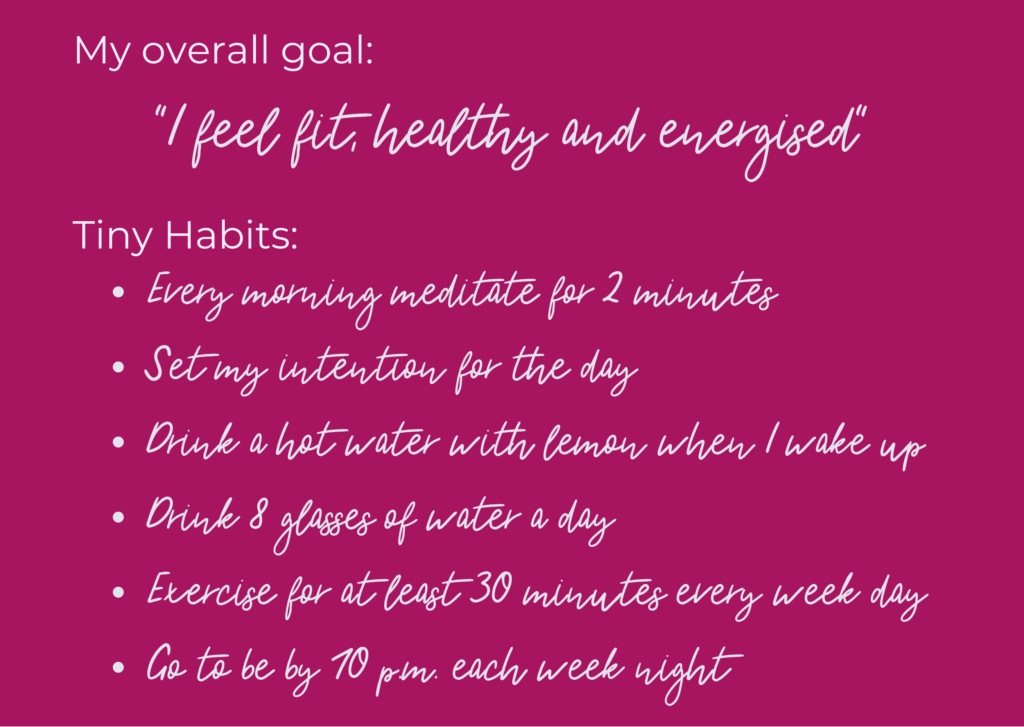 I will track my new habits and if I slip up, I will get back on the wagon immediately. So, if I miss one of my 30 min workouts one day, I will ensure I do a workout the next day and not stop the habits I have done so well to build.
As I embed my tiny habits, I will use the approach I mentioned earlier of adding 2 minutes to certain pratices to increase the time I spend on them, should I wish. For example, in February I may change my meditation habit by adding 2 minutes more of mediation. It will make the change more achievable for me.
So do you fancy giving it a go?
If you do, here is what you need to do:
Set aside 30 minutes to focus on creating your tiny habits for January
Pick the areas of your life you want to change and create tiny habits
Track your progress – download your free tracker here
If you miss a day, be kind to yourself and get back on the wagon. You've worked hard to build your tiny habits, keep going
Set aside time at the end of January to review how things have gone. Do you want to add new tiny habits for February towards your goal, or expand on you're the tiny habits for January?
The important, yet fun bit – celebrate your progress in introducing tiny habits that help you achieve your goals.
These are just a few ideas; you choose what area or areas of your life you want to make changes.
I would love it if you joined my free Facebook Group called the Incredible You Lounge – click here to join.
The Lounge is a place where you can learn ways to get the rid of the stuff that is getting in the way of you feeling incredible. You will find lots of practical tips and information to support you to be kind to yourself, to look after your well-being and focus on you.It is also a space for you to connect with others and become part of the Incredible You community.

If you are interested in coaching to define goals for your future in a compelling, exciting way to achieve the outcomes you want, as well as get rid of the stuff getting in your way, please get in touch with me, Louisa for a free, informal chat – 02921 690140 or email me at louisa@incredible-you.co.uk.